Salen's Landscaping Inc is an honored recipient of the 2019 Talk Award with a 5 Star Customer Satisfaction Rating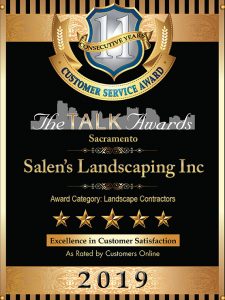 Salen's Landscaping Inc has again been awarded the Talk of the Town Award for eleven consecutive years.

Talk of town award said in a statement via email that "Performing at the level needed to earn this recognition in consecutive years is impressive. You and your staff proved year after year that the exceptional service you provide is embedded in your company's core values and mission.

Unlike typical consumer review sites, your 5 star rating is stable for the entire year. By consistently providing great service, you've earned the opportunity to leverage your verified performance into new business. When people see your continued success as a consecutive year Talk Award Winner, they won't have reason to wonder how good your service is – they will know."

This reaffirms the excellent service and commitments performed by the company year after year.