Broom finish concrete is extremely durable and can add an artful addition to your home's exterior. A proper brushing technique is an art form and can give the concrete texture and reduce slips. Broom finish concrete is the most commonly used form in both residential and commercial construction.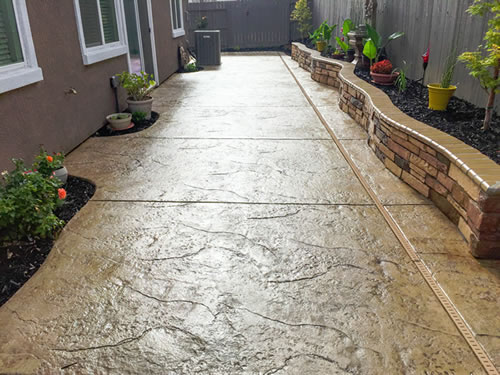 Decorative concrete enhances your home's beauty and value with its proven record for strength, durability and cost effectiveness in a variety of applications. We specialize in concrete removal and installation with a variety of styles and finishes including broom finish, exposed aggregate, salt finish, stamped, colored or standard mixes for driveways, patios, walkways, steps, RV pads, etc.
Channel and deck-o-drains are always utilized as necessary for a reasonable price.
If you still have questions, please don't hesitate to contact us. We provide free quotes and consultation.